Ride to riches: This 35-year old turned a crazy idea into a $4b boom
It seemed like a nutty idea at the time – and it still does.
Three years ago, Hu Weiwei and her co-founders decided to start a business letting people share bicycles for pennies per ride. People could hop on for a quick ride to the train or supermarket, then leave the bike right out front without the hassle of finding a parking rack.
(Ivan's comment – I've been using mobile to ride from work to home and it's great)
In a shocker for most of the rest of the world, the Chinese business boomed and this week the former journalist and her cohorts agreed to sell Mobike in a deal that values the startup at $US3.4 billion ($4.3 billion). Food delivery giant Meituan Dianping is acquiring the company. The founders and investors pocket more than $US1 billion in cash and Ms Hu – who's turning 36 this year – and her team get to keep running the business.
It's a story of the New China, where tech parvenus amass riches at mind-boggling speed. A generation of younger entrepreneurs is capitalising on the mass adoption of smartphones, faster internet speeds, easy mobile payments and abundant venture capital. Backed by giants Alibaba Group and Tencent Holdings, Chinese startups have been able to burn billions in cash to build business models that often ultimately benefit the two behemoths.
"In world internet history you have never seen a phenomenon like this; so much money raised, so quickly with such young entrepreneurs," said Ben Harburg, a managing partner at Magic Stone Alternative Investment, which invested in both Meituan and Mobike.
China Renaissance acted as the adviser for Mobike, most recently valued at $US3 billion according to researcher CB Insights. The deal values the bike-sharing firm's equity at about $US2.7 billion, and Meituan will assume roughly $US700 million in debt, one of the people said.
"In world internet history you have never seen a phenomenon like this; so much money raised, so quickly with such young entrepreneurs."

Ben Harburg, Magic Stone Alternative Investment
Mobike's unlikely tale began in 2015 when Ms Hu's team worked out of an office next to their building's communal toilet. Along with co-founders such as Davis Wang, she hatched the idea of pooling bicycles — long associated with Communist China's industrial boom — to help harried urbanites glide through worsening congestion. Around that time, a bunch of college kids led by Dai Wei were experimenting on-campus with the same idea, eventually creating Ofo — now Mobike's biggest rival.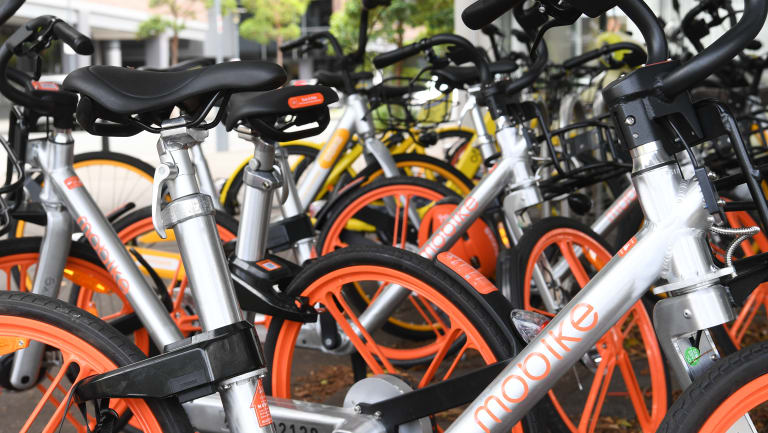 It wasn't easy. In China, the internet business is trial by fire. At least three dozen companies jumped into the field and mountains of bicycles piled up in Beijing and Shanghai. Municipalities struggled to keep streets and sidewalks passable — and local governments from the US to Australia and Europe balked as the China startups tried their free-wheeling approach abroad.
More than 34 smaller competitors have shut due to high operating costs and a lack of funding, according to the China Consumer Association. Now, Mobike and Ofo account for about 90 per cent of the market, Counterpoint Research estimates.
Snazzy orange
Mobike lured investors by cultivating a premium gloss. It created bikes with snazzy orange wheels that cost as much as 3,000 yuan ($578) and equipped them with satellite positioning. Its pricing was double that of Ofo's, but that eventually came down and was often free when the two waged subsidy wars. But a steady stream of funding from some of the biggest names in tech investment — including Alibaba, Tencent and Sequoia — helped them flood the streets with bikes. It also let them replenish the bikes confiscated on a daily basis by city authorities trying to clear their sidewalks of the resultant clutter.
"Mobike's case shows how China's full of opportunities for small startups to grow quickly in very short period of time," said Teng Bingsheng, a professor at Cheung Kong Graduate School of Business.
"Many of the Chinese tech startups will eventually take sides between Alibaba and Tencent because the pair simply covered a wide area in terms of internet services."
In the US, it takes on average seven years for a startup to achieve unicorn status or more than $US1 billion in valuation, according to Boston Consulting Group. In China, that figure is four years.
The deal also highlights how allegiances can shift in the blink of an eye. In the bike-sharing space, three camps remain. There's Meituan and Mobike, backed by Tencent, the social media goliath using both to prop up its mobile payments business. In another camp is Alibaba, which has drafted Ofo and No. 3 player Hellobike.
"It wasn't just that they were in the middle of a war between the Alibaba and Tencent internet giants who were financing them and the venture funds," Mr Harburg said.
"They were also, of all the technology companies in the world, the most under the public spotlight because they're one of the few visual manifestations of this internet wave that is hitting China."
Playing a game of chess
Then there's Didi Chuxing, the latest to wade into the fray. Didi was once Ofo's strongest backer. But that relationship soured in past months as Didi sought more control. The company then attempted to invest in Mobike but didn't follow through, according to people familiar with the matter. Tencent, a backer also of Didi's, gave its blessing to Meituan, one of the people said.
Meituan itself is treading a fine line with its most important backer. The company directs some 60 per cent of its payments traffic to Tencent, but is developing its own transactions system. As Meituan evolves into a super-app that offers everything from food delivery to ride hailing, it may no longer be content with just being Tencent's proxy. It's already said to be planning an initial public offering this year, seeking a valuation of at least $US60 billion.
"These second-tier companies might be used as proxies for Alibaba and Tencent for now, but within their own camps they also are playing a game of chess and trying to build bigger ecosystems," said Zhou Xin, President of Beijing-based internet consultancy Jkinvest Bigdata.
Mobike's big pay-day aside, bike-sharing remains a fraught arena. Both Ofo and Mobike have raised billions via some eight rounds of funding, according to Counterpoint. Yet they're unprofitable, said Zhang Mengmeng, an analyst at Counterpoint. And the bike wars continue.
Beginning of the End
"The fees charged are not enough to cover the costs of running the operation," Zhang said. "It seems unlikely that there will be any clear ways of monetisation from big data in the near future."
Ms Hu, on her personal WeChat account, turned reflective as the deal was completed. She said Mobike's mission is consistent with Meituan's vision.
"From my perspective it's a new beginning," she wrote, including a link to the Nine Inch Nails song "The Beginning of the End".
Bloomberg
Posted on April 6, 2018