How AI is disrupting the Recruitment / HR industry
By Gabriel Lim
As we head into 2018, we see that the recruitment and human resources industry is buzzing with innovation. The Adecco Group announced today that it acquired Vettery for a rumoured $100 million.
A trend that's currently taking the HR industry by storm is Artificial Intelligence (AI). There's an AI-powered solution for virtually every part of the recruitment funnel today. But I believe that we are still in the first innings of applications for AI in recruitment.
The Perfect Storm
Recruiting is an interesting business where high value is created in very discrete time intervals via a two-sided market. This means that speed and efficiency is of the essence – and companies that can leverage on the multiplier effects of automation will win in the long run.
The confluence of new technology brought to bear on the recruiting industry, and unprecedented influx of millennials entering the workforce, means that the landscape is shifting for recruitment companies.
According to the Deloitte Human Capital Trends report, 38 percent of HR companies currently use AI, and 62 percent expect to do so by end of this year.
The reason is simple – companies that use AI, predictive data analytics and other technology tools are more successful than those who don't.
Research indicates that innovation adopters demonstrate 18 percent higher revenue and 30 percent greater profitability than their non-adopter counterparts..
(Ivan Kaye – have a look at My Recruitment Plus – Anwar Khalil is at the forefront of AI in the recruitment industry – https://www.myrecruitmentplus.com/)
Below are some interesting applications of AI in the recruitment industry
Sourcing, Screening, Scheduling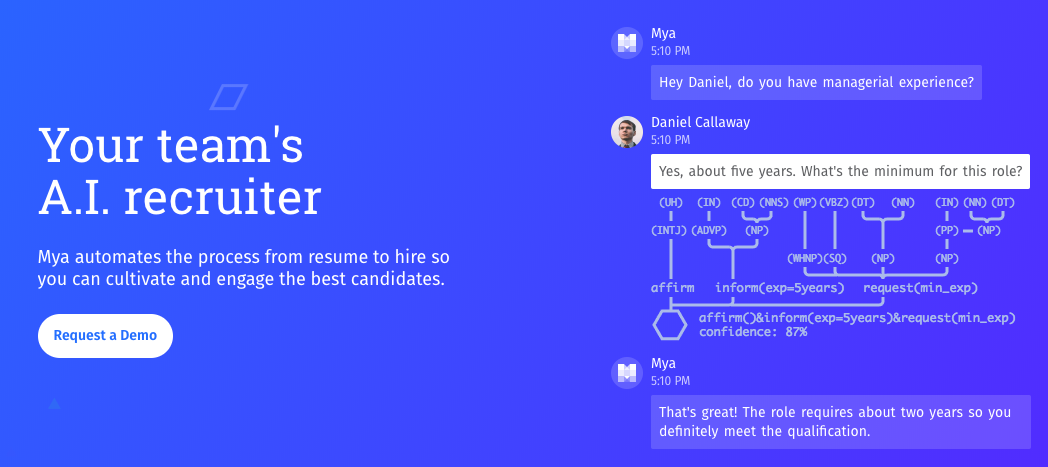 Mya is a fully automated recruiting assistant that claims to save up to 75% of a recruiter's time on sourcing, screening and scheduling interviews with candidates.
The idea is to free up recruiters' time, so they can focus on qualified candidates and spend more time on converting hires.
They raised venture funding to the tune of $32.4 million to bring their AI-recruiter vision to reality.
Mya engages with applicants via chat, poses contextual questions based on the company and job requirements, captures these data – and provides personalised updates & suggestions to candidates. And she does all these at scale – one of their global clients screens over 5 million candidates a year.
This solves the pain point of recruiters today, where huge swaths of candidates "spray and pray" – applying to every posting, regardless of fit or match.
Inundated by low quality applicants, recruiters are forced to trudge through a tedious and inefficient process.
Mya solves this problem by disqualifying irrelevant resumes, engaging directly with potential candidates, and capturing information to help recruitments make better hires.
Writing High Performing Job Posts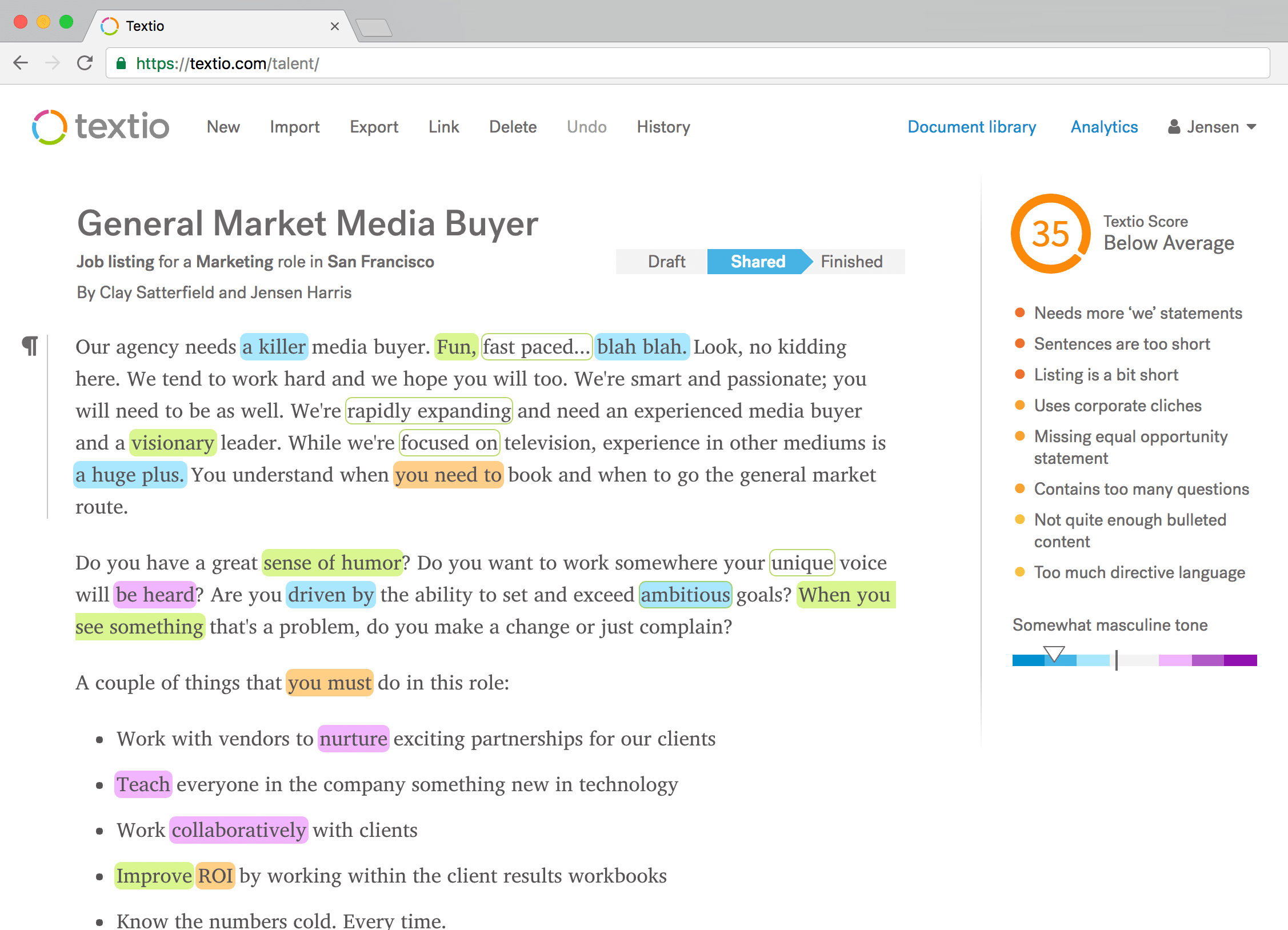 Textio is an augmented writing startup that works with Fortune 500 companies such as Cisco and P&G to recruit better talent.
Textio helps recruiters improve the content of their job postings. They claim that small tweaks in language used can make a big difference in response rates and quality of candidates that apply.
They raised $29.5 million to bring their augmented writing platform for creating highly effective job listings to market.
Textio uses machine learning to detect patterns, and evidence of bias in job postings. Its natural language processing engine ingests job postings and analyses them to help companies understand the outcome of these postings – in terms of candidates who apply, receive an offer and accept the offer.
It gives language suggestions to help companies attract a more diverse group of applicants. For example, Textio realised using the word, "manage" draws more male job seekers; and it suggests using "handle", "lead", or "run" instead.
Other than diversity, they also claim to help recruit candidates that are 24% more qualified, and fill roles 17% faster.
Acquiring Clients And Increasing Market Share
Saleswhale is an AI sales assistant that engages, qualifies and books client meetings for recruitment consultants at scale.
Disclaimer: In case you haven't already noticed, this is us. I'm just going to continue to narrate in the third-party for the sake of consistency ?
Saleswhale works with some of the largest recruiters in North America and the Asia-Pacific region, including Fortune 500 companies such as Randstad, to close the gap between sales and marketing for client prospects.
They raised $1.2 million and were incubated by prestigious accelerator Y Combinator (incubatees include AirBnB & DropBox), to deploy an AI assistant for every sales organisation.
It engages marketing generated leads and stale leads via personalised and contextual email messaging, parses and interprets a prospect's reply, and responds accordingly.
It can also send relevant collateral, map out referrals to relevant decision makers, and discern the best times to engage a potential client. It is able to do all these at scale, ensuring that no lead slips through the cracks.
The idea is to automate away monotonous and repetitive tasks, and help consultants spend more time on high-value activities. As a result, Saleswhale hopes to solve the high attrition rate in the recruitment industry.
An average recruitment consultant works long hours, often without proper infrastructure and support. Frequently, they have to work with outdated client databases with incomplete contact information.
Saleswhale is able to collect unstructured datafrom email interactions, and enrich prospect information with latest contact numbers / direct dials alongside other crucial pieces of information – for recruitment consultants to engage prospective clients effectively.
A Ripe Apple Waiting To Fall
Essentially, AI is automating the weak components of business – lack of time, lack of discipline, lack of process, even human laziness— and replacing it with repeatable, reliable process. It gives a lift structurally to the entire organisation, if applied correctly.
These are just 3 interesting applications of AI in recruitment, and I'm sure we will see a lot more in the coming months. It looks like 2018 will be a watershed year for AI in recruitment – and I'm excited to see new upcoming innovative applications.
Posted on March 15, 2018